Redefining Artificial Intelligence: Making AI Work for Your Business
"By 1985, machines will be capable of doing any work that humans can do." – Marvin Minsky, MIT, 1967
Since the inception of machine learning, AI has carried a lot of hype.
As we go back through the history of AI, it seems the only predictable thing about AI is the hype surrounding it, and these days, the hype is at an all-time high.
And while the projection that the esteemed MIT scholar Marvin Minsky predicted did not actually come true by 1985, AI has and continues to advance at a rapid pace.
AI is finally maturing to the point where it's become practical for organizations to leverage as a competitive differentiator. And while all of this sounds good in theory, and many early adopters have already jumped in, the myths and common misconceptions surrounding AI, along with the lack of successful methodologies around its execution in a business context, make the delivery difficult and unpredictable.
So how can businesses make AI work for them?
The very first thing to do is to reframe what AI means for your business.
AI is a deceptively vague term- it covers everything from 1980's robotics to full-blown human-like intelligence- from simple algorithms to advanced deep-learning neural networks. AI is all around us- from the personal assistant on your phone to the computer systems that control commercial aircraft carriers. AI is not a single technology- it is a collection of many different technologies and algorithms varying in capabilities and maturity. To rethink how we view AI, here is simple way to define it: any algorithm or technology that exhibits decision making, inference or intelligent behavior.
So you can see why it can be hard for anyone to get their arms around "AI".
As you conceptualize how AI can drive value for your business, consider these two things:
Data plays a strategic role as the enabler of AI technology. Without access to the right data your AI will not be successful. Humans and computers alike both need to learn to get smarter- by arming your AI with actionable data from the start, it will have a solid knowledge foundation from which it can learn and become more intelligent with every interaction.
When implementing an AI solution, the goal is not to pick the most advanced AI technology available, but to pick the right technology for your business that will address the problem you are trying to solve. You don't need a Lamborghini to get you the supermarket. To find success with AI, be realistic in what you are trying to achieve and make sure that you pick an AI solution that can grow with you, but also one that can also deliver value quickly, without serious upfront investment.
Before you build out your AI strategy, solidify your use-case. Clearly identify the problem you are trying to solve. Determine which systems the AI will be working with or embedded in. Evaluate the processes AI will be inserted into- how will these processes need to change? And last but not least, identify the teams or individuals in your org that are needed to implement this new technology, as well as those that may be affected it by it- how will their day-to-day work shift?
It can be easy to try to just jump into figuring out your AI strategy and how you are going to implement it, but defining what AI means for your company and understanding the use cases you want to solve with it are a crucial first step. Don't run before you crawl — do your due diligence and AI will work for you.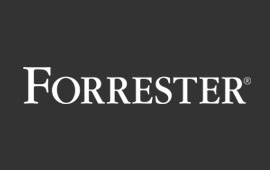 To learn more, check out Forrester's 2018 Customer Service Trends report which outlines several key ways AI is impacting customer support.
Be sure to look out for my next post where I'll address how to build a framework for an AI strategy.