Customer Experience Trends: What to Expect in 2018
As we look to the start of a new year, the same questions always emerge – whether that be from customers, product teams, marketing professionals, sales people.  What will the next big customer experience trend be?  What should I be preparing for?  While I don't have a crystal ball or a time machine to say with certainty, I can make some educated guesses.  Here are the top trends I see moving the industry forward in 2018:
Customer Service Will Disappear
At least customer service as we know it.  It's all about the customer EXPERIENCE.  For a while now, brands have known that they need to be thinking about customer experience, but in 2018, we will begin to see the full effect of companies that have not acted on it.  Amazon is disrupting industry after industry through a hyper-focus on disruptive business models and sustained growth.  However, a concerted focus on improving customer experience and customer loyalty – like Apple's model – can be a better path to long-term profitability.  Businesses have the opportunity to put customers above all else and distinguish themselves through better, more personalized customer engagements.  As a result, businesses create higher customer value and can build durable customer relationships that will grow over time.
Omni-Channel Experience: There Will be More Channels of Engagement, Not Less
There is a lot of talk in the market about the death of the call center or "email killer" channels coming to light, but the elimination of those channels is far off…if ever.  When we look at channels that have been truly eliminated one could argue the fax machine – but anyone who has worked with a lawyer or insurance company will tell you that's not entirely true.  Consumers choose communication channels depending on their own convenience, but the amount of engagements overall is going up.  With big brands like Apple and Google growing digital customer experience by announcing new messaging channels this year, we can only expect that more will be released in 2018 – but none will be completely eliminated.
Rapid Adoption of AI Technologies
While AI-powered technologies made a big splash in recent years, there are still a lot of questions around adoption.  How difficult is it to implement these technologies with my legacy systems?  Are the benefits real?  How long until we see value?  In 2018, as more and more successful use cases come to light and pilot programs show ROI, the path to success will be more clearly paved and confidence in investing in the technology will grow.  Companies will also start to feel pressure that the first-mover advantage of AI will begin disappearing and will drive more widespread adoption.  In addition, the technology will also see its next big step in maturity.  We'll see reactive automation move to proactive use cases that will help turn service engagements into sales opportunities and see deeper contact center integrations.
Artificial Intelligence Won't Replace Humans
There is a lot of discussion around the idea that AI will eliminate the need for human agents.  History shows us that automation can disrupt the job market, but AI should be looked at differently.  Automation is not anti-engagement.  There will always be a need for human-to-human interactions – it's just that agents' job functions may change.  Their roles will become more challenging and require different hiring, training and retention processes.  While bots will be able to offload lower-value, repetitive queries, companies will still need to staff a contact center where agents can focus on higher value, more complex customer engagements.  Companies that have implemented AI solutions quickly realize that while AI can help streamline work processes and take some of the burden off overloaded agents, the most successful ones will take a hybrid approach.  AI technology empowers both the customer and the agent.  Customers have the power to self-serve where they see fit, while agents use AI insights to offer a more personalized experience when a human connection is valuable.
Augmented & Virtual Reality Technology Could Move Beyond the Hype
The technology will become more mainstream and the use cases will become more interesting, but it's impact on CX remains to be seen.  To be truly valuable, Augmented/Virtual Reality system implementations need to be viewed as another fully functioning channel.  An AR or VR implementation can't be a standalone, disconnected experience – for example, laying out a room with new furniture, but don't have the ability to seamlessly ask an agent questions or make a purchase within the same experience.  While the technology is undoubtedly cool, if it's not seamlessly integrated into the full customer experience, it will become more of a fad than an investment that will drive new customer value and incremental revenue for the company.
2017 was a groundbreaking year for customer service.  We saw a stronger focus on having the best customer experience strategy from the board-level, rapid maturity of new technologies, and customers – not cost – driving strategies.    As consumers continue to demand more from the companies they do business with, 2018 will be a year of reinvention for brands fighting to stay relevant in today's landscape.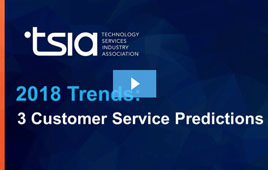 Want to hear more?  Check out our on-demand webinar with TSIA, 2018 Trends: 3 Customer Service Predictions.