3 Ways to Simplify Your Approach to Customer Service
Most businesses know that a surefire way to be a market differentiator is to provide excellent customer service. In fact, a Forrester report Transform The Contact Center for Customer Service Excellence found that customer loyalty has an amazing return of investment — a mere 10-percentage-point improvement in a company's CX score can translate into more than $1 billion, across several major industries.
One the flip side, a report by Ovum found that 82% of consumers will stop doing business with a company after just one bad customer service experience. So it's in the interest of every business to maintain customer loyalty through excellent customer service — and one of the keys to that…simplicity.
Here are a few tips to help simplify your customer service approach:
Clear out the Clutter
In their eagerness to fulfill the omni-channel promise, many businesses started using multiple solutions so their customers could reach them on any channel, anywhere, any time. The result was one solution for the phone, another for email, a different one for social media, and a chat tool tacked onto the website. But working in these silos makes delivering exceptional and seamless customer service really difficult. This lack of integration causes inconsistent customer service, which, as Forrester found, increases costs and decreases customer satisfaction.
The solution? Simplify by clearing the clutter! Cut down on your tools, and consolidate all your customer service needs by using one solution that has omni-channel support covered. By centralizing the customer data, agents to have a full view of the customer journey and are in the best possible position to deliver personalized and seamless support.
Leverage A.I. For Self-Help
Forrester also found that lack of automation, coupled with multiple applications, "hinders agent consistency and productivity, increases agent training times, and leads to a higher level of agent turnover due to frustration with the tool set." Maybe it's time to employ some mindful automation.
Empowering customers to help themselves with routine inquiries via A.I. powered chatbots helps get issues resolved faster, provides a consistent experience, increases productivity , and allows agents to focus their time on more complex, higher-value customer queries.
Nurture Relationships
We know that these days customers expect businesses to deliver a personalized service, but, as Forrester found, it can be difficult to get beyond personalizing for broad segments. "They cannot optimize process flows and decisions — or next best actions — for more personal and successful business outcomes that foster relationships, trust, and loyalty."
Make it easy for agents to connect with customers on a personal level by using a customer service solution that delivers them a 360° view on each customer, when they need it most. Giving agents the information they need quickly, at their fingertips enables them to continue building and nurturing these valuable customer relationships.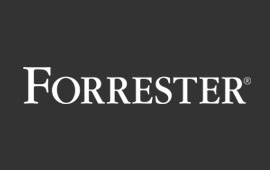 For more tips on how to simplify your customer service strategy, check out Forrester's report, Transform the Contact Center for Customer Service Excellence.